Do you want to become a change maker who contributes to innovative solutions that make the world more sustainable? Do you want to get outside your comfort zone and work on real-life problems in an interdisciplinary innovation team? Do you want to develop the knowledge, skills, and attitude of a sustainability changemaker? Then sign up for the Da Vinci Programme.
The Da Vinci Programme offers you an immersive learning experience that enables you to become a changemaker, a connector, and an innovator that contributes to the transition towards a sustainable world. In collaboration with private and public partners you will tackle real-life sustainability challenges. There are five challenges to choose from.

In an interdisciplinary student team, you will work part time at a stakeholder's (partner organization) location. All teams will be mentored by supervisors from the partner organizations and by a coach from university. During the programme you will be offered weekly workshops, supporting you in the process for solving the challenge. Through the workshops you will be trained in design thinking, systems thinking and interdisciplinary collaboration. The coach will support you on a personal development journey.
There will also be additional educational activities, such as field trips, showcasing inspiring real-life examples of sustainability innovation.
After the Da Vinci Program you
will be equipped with the knowledge, skills, and attitude to tackle sustainability challenges;
will get experience on interdisciplinary research, stakeholder management and other leadership skills;
will practice with creative thinking, building and testing prototypes and critical reflection;
will discover how you can add value to an interdisciplinary environment to solve complex problems;
will have gained in-depth knowledge on a specific sustainability issue.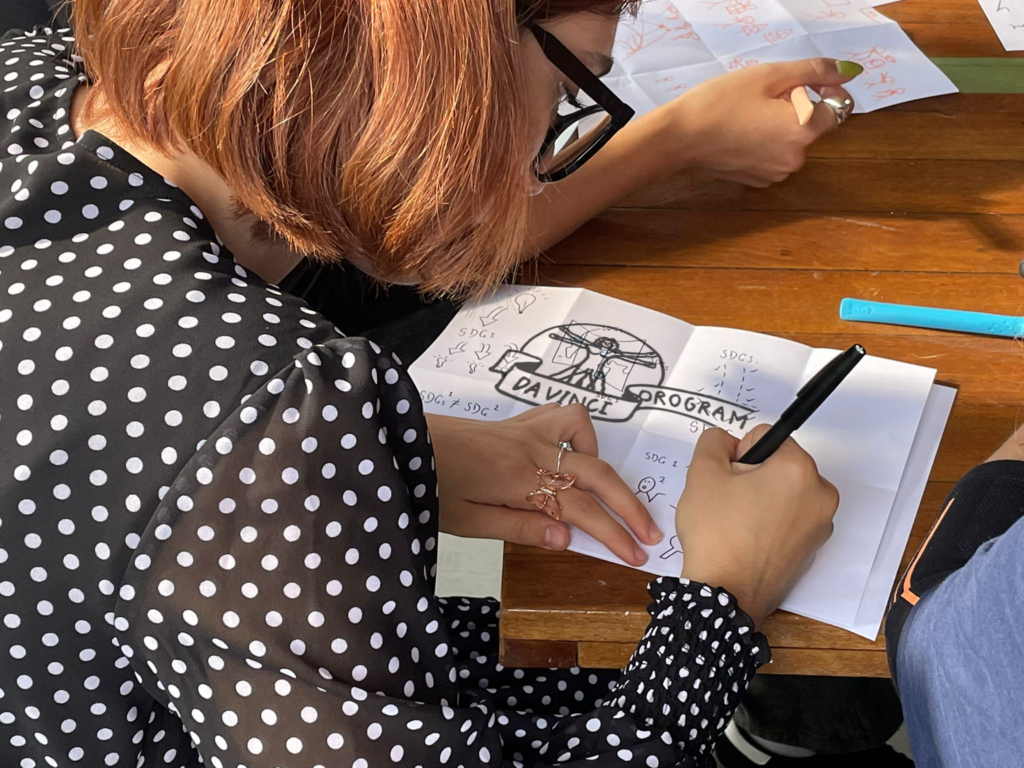 A programme with five choices
In collaboration with five external partners the Da Vinci Programme offers five challenges to choose from. When you sign up for this programme, you are required to submit a motivation for one of them.
Choice 1. Sustainable and Circular Paint in cooperation with AkzoNobel
Technically and legislation-wise, paint is difficult to recycle and re-use as raw materials are in other industries. Leftover paint has an expiration date and usually ends up never to be used. It needs to be taken to designated waste collection sites which results inconvenient for the consumer. Leftover paint eventually is disposed in the landfill or is incinerated, which emits a significant amount of carbon. This is not acceptable for AkzoNobel which aims at a sustainable and circular paint industry.
For AkzoNobel, the traditional model that has dominated the decorative paints market needs a complete transformation.
This challenge requires you to work together with your peers and combine your interdisciplinary knowledge to think creatively to solve the technical and systematic problems that currently exist. An out of the box perspective is key in surpassing the existing barriers. There are no limitations imposed to the solutions that you propose during the Da Vinci challenge to make AkzoNobel's products and services more sustainable. You can propose an IT model, a legislative change, a marketing initiative, or a new way of collaboration within the value chain, to name a few. Your solution has not only the potential to change what AkzoNobel does as a company but could also transform the entire industry.
Choice 2. Towards a fossil free refinery in cooperation with the ETCA (Energy Transition Campus Amsterdam) and Shell
By 2030, CO2 emissions from both households and industry should be significantly reduced. To ensure that we can still make our everyday products in the chemical industry, which currently is very dependent on fossil resources, we need a new refinery concept. What does this new refinery look like and where does the carbon and energy come from to make our fuels and materials?
Take the Netherlands, for example. Where should this refinery ideally be located and how big will it be? Many small refineries or one big one? What should you all consider when building this new refinery? What is desirable? What is feasible? What is viable? And by far most important, what is sustainable and circular? Furthermore, it would also be interesting to look at what is currently being developed in startups and which hurdles those innovations must pass before they become realizable and before they can be integrated in a new refinery.
These are all complex questions that need to be answered by people with different scientific backgrounds.
For more information watch this video.
Choice 3. Transition to animal free testing in cooperation with Unilever
For chemicals and pharmaceuticals to be released onto the market, they first need to be approved for their safety (and efficacy in the case of drugs) by regulatory agencies. Guidelines, tests and regulations are in place that need to be fulfill, reported and evaluated before substances can be marketed. Employees of regulatory bodies evaluate the dossiers and usually require significant additional testing.
Many of the required safety tests still encompass animal studies, despite the huge scientific and technical advances of the past decades towards animal-free innovations. However, the central question in this Da Vinci challenge is: how useful and predictive (of human toxicity/pathology) are these animal studies? Because the relevance of the results for humans of these tests is questioned to an increasingly extent. Since the use of animals for these purposes is under scrutiny, the challenge is to create and evaluate an inventory of useful requirements and to draw out conclusions on the relevance and usefulness of these tests.

Unilever has the desire to move away from animal safety testing and has developed the Next Generation Risk Assessment as a methodology to assess the safety of chemicals. It is a fully animal-testing free methodology. The validation and acceptance of this new methodology by regulatory agencies is the subject of transdisciplinary research. Providing the evidence for the relevance of new methods and discussing how these can become implemented in legislative procedures, will be crucial steps towards an animal-testing-free world.
For more information watch this video.
Choice 4. Making the healthcare sector more sustainable in cooperation with UMC Utrecht
In the Netherlands, the healthcare sector is responsible for about 7% of our CO2 emissions. Also, 4% of the waste in the Netherlands and 13% of the use of raw materials. By providing care, the sector is contributing to the climate crisis.
At the UMC Utrecht everything is aimed at making and keeping people healthy. Together with partners in the healthcare sector the UMC Utrecht is working on 'sustainable care' within the Green Deal Duurzame Zorg. The team working with UMCU can choose from several focus points.
Awareness
How can we use knowledge from (behavioral) scientific research to make healthcare providers, staff and students aware of the relationship between climate, environment and health? How can we stimulate them to behave more sustainably?
Reduction of CO2 produced by traveling
Can we improve the accessibility of the Utrecht Science Park and maintain our attractiveness as an employer?
Reduction of raw materials
The healthcare sector consumes a lot of materials, auxiliary and protective equipment, and raw materials. We aim to reduce the use of primary raw materials for (medical) devices drastically. A transition from 'disposable' to 'reusable' and preferably reduction of consumption. On which selection of (medical) devices should we focus to make the most positive impact environmentally?
For more information watch this video
Choice 5. Contributing to healthy urban living in cooperation with Utrecht Province
Utrecht has the ambition to become the healthiest, happiest region of The Netherlands and to become a 'living lab' for healthy urban living. In doing so, the region contributes to the long-term health and sustainability objectives for 2050 as defined in the EU Green Deal. An important issue that needs to be worked on is the prevention of disease and ill-health by focusing on issues like how transport systems and mobility in general are organised in cities. In this way policy measures can be taken and prioritised.

The constant and dense traffic in the province of Utrecht leads to health-harming concentrations of particulate matter (PM), nitrogen dioxide, ground-level ozone, ultrafine particles, and raises the background noise level. Research has shown that tight regulation of exhaust emissions by the EU has been effective in reducing new cars' production of particle pollution. But tyre wear pollution is unregulated and can be 1,000 times worse. Increasing popularity of SUVs, larger and heavier than standard vehicles, exacerbates this problem – as does growing sales of heavy EVs and widespread use of budget tyres.

Challenge: Electric car pollution – tires and brakes
Utrecht is the fastest-growing economy in the Netherlands, it is the hub of the Netherlands, partly due to its central location it has a lot of through traffic. After 2030, fossil fuel driven cars will no longer be sold in Europe and therefore a sharp increase of electric road transportation is expected. As such, Utrecht will be very affected by the increase of traffic-related pollution due to the increment of tire and brake wear of the growing fleet of electric cars. As particulate matter and microplastics, end up in the air, water and soil, public health is badly affected.
Addressing this challenge requires the consideration of the following:
Technical issues of tire and brake wear, directly related to the tire and car industry.
Regulatory issues of setting norms of pollution, which have a European, national and (minor) provincial dimension.
Behavioural component in terms of adapting different driving styles and willingness to invest in mitigating measures at individual level.
Business/budgetary component in terms of increased costs of mitigating measures.
Collaborative aspects, as this problem requires joint action of different stakeholders like research institutes, different levels of government, private sector, and environmental organisations.
A need to balance between quick wins, technical and structural solutions.
Important questions that are addressed during this challenge are:
How can we tackle the main root causes strategically?
How can this endeavor be achieved contributing to a transition to clean, healthy transportation in the province of Utrecht by 2050?
How can this be communicated effectively to motivate the different stakeholders to join in the transition?
Practical information Da Vinci Challenge
Start date: September 4th, 2023
End date: January 26th, 2024
Master students from all disciplines are welcome to join
Information about this programme is given during an online session on the 17th of August from 16.00h to17.00h. Registrate for this session by sending an email to: mdavinci@uu.nl
More information about live events will follow soon
Study load is 30 ECTS
This course is in English
This course is interesting for students who want to develop personal skills and competencies like:

Learn how to use design thinking
Collaborate and communicate with other disciplines
Work with real stakeholders (20 hrs of direct contact)
Work with various perspectives and from other expertises
Have personal guidance from a CBL Coach
Teaching Method
The programme is divided into three design cycles. You start doing research to understand the problem, then you establish criteria for the solution, and you build and test prototypes. In the last step of the iteration you reflect on your results and you take these learnings into the next cycle.
You work in your team on the challenge, but there are many activities with the whole Da Vinci community to exchange experiences and learn together. At the beginning of the programme there are weekly workshops on systems thinking, design thinking and interdisciplinary collaboration planned and later on there are field trips. Along all this there is plenty of room for your ideas to co-create and organize parts of the programme yourself. You can take initiative to invite guest speakers, to take your fellow students to inspiring places or organize fun team building activities.
During the whole programme you reflect on your personal development, and you receive feedback frequently. More details about this learning method will be available soon in a downloadable PDF.
End Presentation
At the end of The Da Vinci Programme all teams will show case their results as a team/group assessment. Each student will also present their own Personal Development Portfolio (PDP). You will build this portfolio by collecting evidence of your development.
Registration
Registration ends on the 22nd of August 2023
We accept a maximum of 30 students. In case the number of applicants exceeds the maximum, a selection will be done by the coordinators of the program, based on three aspects:
We aim to create interdisciplinary student teams, which means ideally an equal representation of alpha, beta, and gamma sciences. Some challenges require certain disciplines and for some challenges particular disciplines are more desirable than others.

Students must submit a video with their motivation when they register for the program.

Students that have registered and submitted a sufficient quality motivation video will be invited for an interview and will be asked to perform an assignment. Based on the criteria of composing the best interdisciplinary teams, the quality of the motivation, the interview and the assignment, the coordinators retain the right to reject students.
Registration link for TU/e and WUR students (EduXchange)
Registration link for UU and UMC Utrecht students (Osiris)