In an interdisciplinary team of students and in close cooperation with the business community, four groups of students from TU/e, WUR, UU and UMC Utrecht set to work on the question: 'How will dairy farms continue to exist in the future, in a healthy, sustainable and economically viable way, from the perspective of the animals, the environment and the farmers?' During workshops and live events, they worked together on this question.
The students and professionals worked together intensively for 100 days. 'I had a great time in this challenge, it's nice that we could express our creativity in the task. But it was sometimes difficult to find a compromise with the other group members. I learned to deal with different views because of this,' said a participant.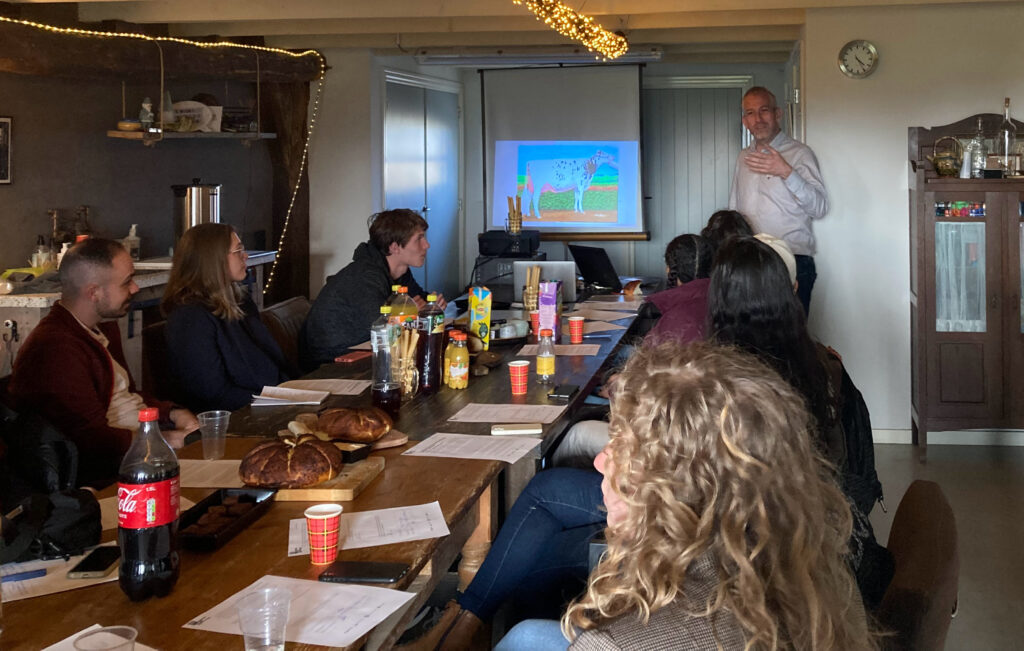 Fabiënne van Grunsven of Imagro Agrifood & Environment was involved as a coach in the Dutch Dairy Student Challenge; 'It was very special to witness the dialogues and discussions between students from different universities, disciplines and even cultures about Dutch dairy farming. Unbiased and with relatively little prior knowledge, the student teams managed to come up with inspiring concepts and ideas from their own focus and problem definition that in theory could all contribute positively to the future of the sector.'
The working groups came up with the four solutions below:
Transparent 2 Sustain
In the supermarket, consumers often choose milk products based on price. To make a choice based on sustainability, more transparency is needed. With QR codes on the shelves and on packaging, 'transparent 2 sustain' wants to help consumers with this. The website provides more information about the product, the existing labels and the price structure based on existing sustainability initiatives. Thanks to a virtual farm, consumers can take a look at the dairy farm or they can contact the farm to visit it in real life.
Dairy Farming Future on Peat Soil
Paludi culture, the cultivation of crops on wet soil, can raise the groundwater level in peatland. Through genetic modification of bacteria with the unique characteristics of archaea, methane could be oxidized. By planting the right vegetation, more CO2 could be absorbed. Thanks to this intricate combination, peatland areas will continue to be suitable for dairy farming in the future. A first step would start with archaea in the lab.
Mestplaats
Manure is not just a residual product it can be put to good use to create fertile soil. Yet dairy farmers have to pay to get rid of excess manure. That feels unfair. Mestplaats, a mobile application, offers a solution. Supply and demand within the region is visually displayed with a map and transactions go through the app. With Mestplaats, farmers can ultimately make better-informed business decisions. In addition, a more circular system contributes to less environmental impact.
Urea controlled farming
By using sensors in automatic milking robots, the urea content of individual cows can be determined during milking. Using software, a direct link is made to the amount of protein fed to the cow in question. The collection and processing of this data is used for the smarter breeding of cows to further reduce emissions.