The rapid growth and development of the Dutch dairy industry has brought a lot of challenges. These are related to the influence on our landscape, the pressure on biodiversity, the reduction of emissions and the improvement of animal welfare. The transition to a sustainable dairy industry that respects animals and the environment is a complex endeavor that will require all involved parties to cooperate and work together on solutions.

In an inter-disciplinary team of students and in close collaboration with industry you will be working on the question: 'How can dairy farms still exist in the future, in a healthy, sustainable and economically feasible way, from the perspective of the animals, the environment, as well as the farmers?'
One Challenge, two tracks
You can choose between two different tracks: Farm Challenge or Open Challenge. They have a joint start and an end event, but both tracks differ in focus, number of ECTS, registration procedure and expected workload.

This challenge is aimed at third-year bachelor and master students from all disciplines in our alliance institutes in Eindhoven, Wageningen and Utrecht.
Practical information

Course starts on February 9th, 2023 and ends on May 19th, 2023.
Live events are on: 09/02, 09/03, 06/04 and 11/05
The Open Challenge is only for 3rd year bachelor's and master's students
The Farm Challenge is open for all HBO students (college degree) and WO students (university education)
Online and Offline
Main differences between both tracks are: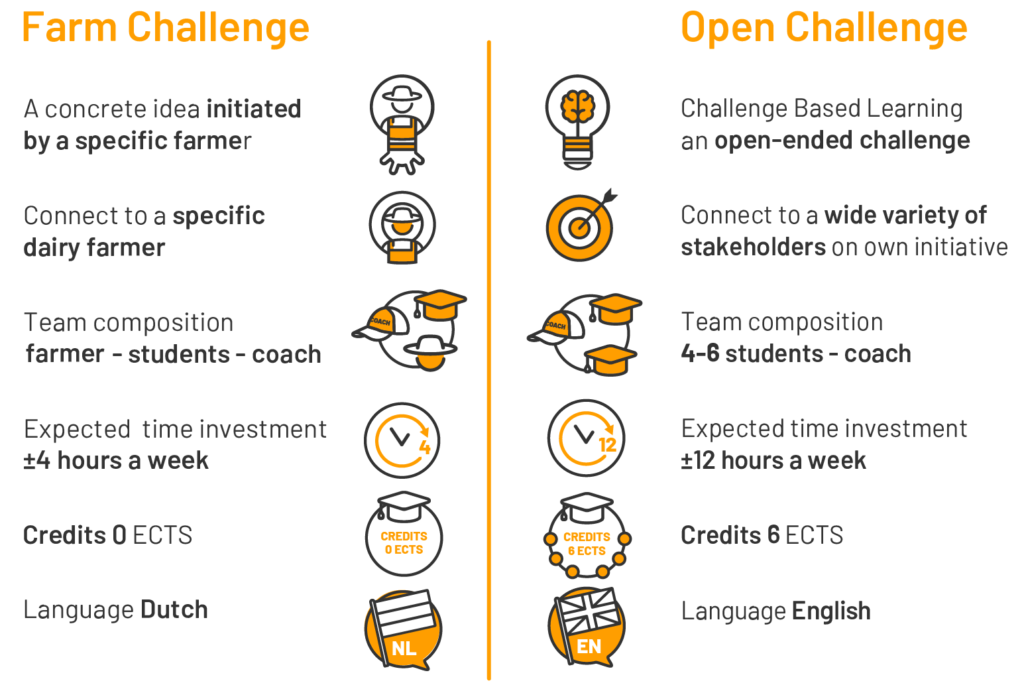 Teaching Method
We will host four different live events of varying locations; events will take place at Dairy farms as much as possible. To fairly distribute the traveling time, we aim to organize this in such a way that each location is close to a different institute.
There will be a joint live event for both tracks where each team will pitch their potential solution to a wide variety of stakeholders. There will be no exams but the Open Challenge does have a project proposal and an individual reflection report at the end (next to the final presentation).
Registration
Deadline for registration is 22 January 2023
Open Challenge (6 ECT):
TU/e via: EduXchange
WUR via: OSIRIS code YWU52806
UU en UMC via: EduXchange
Farm Challenge (Dutch is required, 0 ECT): dutchdairychallenge.nl